Social Media: Facebook, Twitter and Instagram Templates
Boost your social media accounts with our masterly crafted Instagram, Facebook and Twitter templates! Multiple themes featured: from Christmas holidays to warm summer adventure stories. All styles included, from Asian aesthetics to classic and simple designs. Choose the social media templates which fit your purposes the best and get ready to receive tons of likes and shares!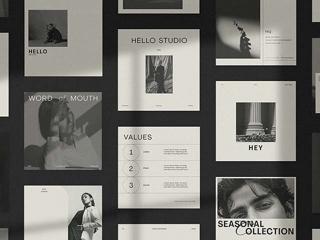 08 March 2023
Transform your Instagram page into a classy noir space! To do so, you should focus on the dim color palette (which looks so luxurious) and pick a pack of matching templates.