The creative industry has graphics software for all tastes, so it can be tricky to end up with a single app that will cover all your creative needs. Which one to pick for realistic drawing? Is there professional software for manga and comics? Is Creative Cloud subscription the only reasonable option for full-time artists and designers?

Clip Studio Paint has taken advantage of all these questions and doubts and introduced its powerful drawing software. You can choose from two grades, depending on what you draw more. Clip Studio Paint Pro is perfect for character art, concept art, illustration, and if you draw manga & comics or make animations, Clip Studio Paint EX is the best option.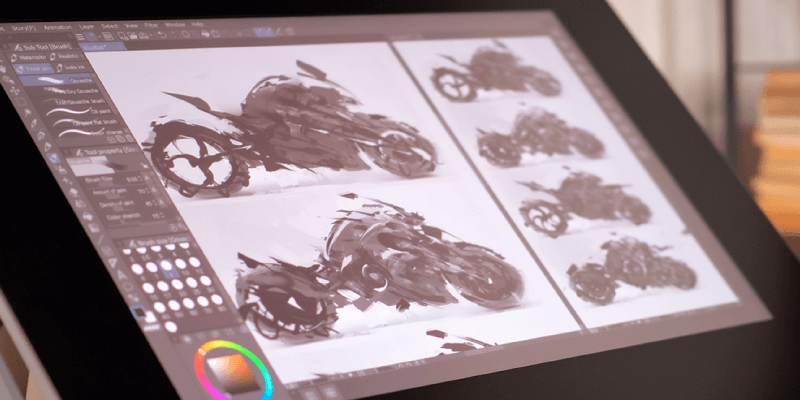 Overview
With lots of distinctive perks, Clip Studio Paint stands out from other drawing apps. Just to begin with, it brings a powerful brush engine, reflecting 8192 levels of pen pressure. The app has the same hotkeys as Photoshop CC, so switching from one app to another won't require much effort. Another huge benefit is the support of both vector and raster formats. It allows the artist to import and use layered .psd files — or edit vector art created in Illustrator and Affinity, enabling a perfectly seamless drawing process.
Clip Studio Paint is bundled with the best-selling pen tablets from Wacom, and you can also find it pre-loaded on the latest Galaxy Android tablets, the Tab S7 and Tab S7+, making it the first choice for getting started with digital art.
Creative Capabilities
Whatever idea you onboard, you can draw it in Clip Studio Paint — its impressive toolset and intuitive use make even the trickiest endeavor possible. Below, we've listed only a fraction of them, and with a free trial, you will be tempted to give the app a go!
Endless brushes for everything. Pencil, watercolor, pattern brushes add personality to your work and help you assert yourself as an artist. Up to 1000 materials are added every month, so there is always something new to try: not just brushes but also various textures and watercolor stains. Also, the app allows importing .abr brushes so that you can use your favorite brush kits. So if you've grown a vast library of Photoshop brushes, you can keep using them once switched to Clip Studio Paint.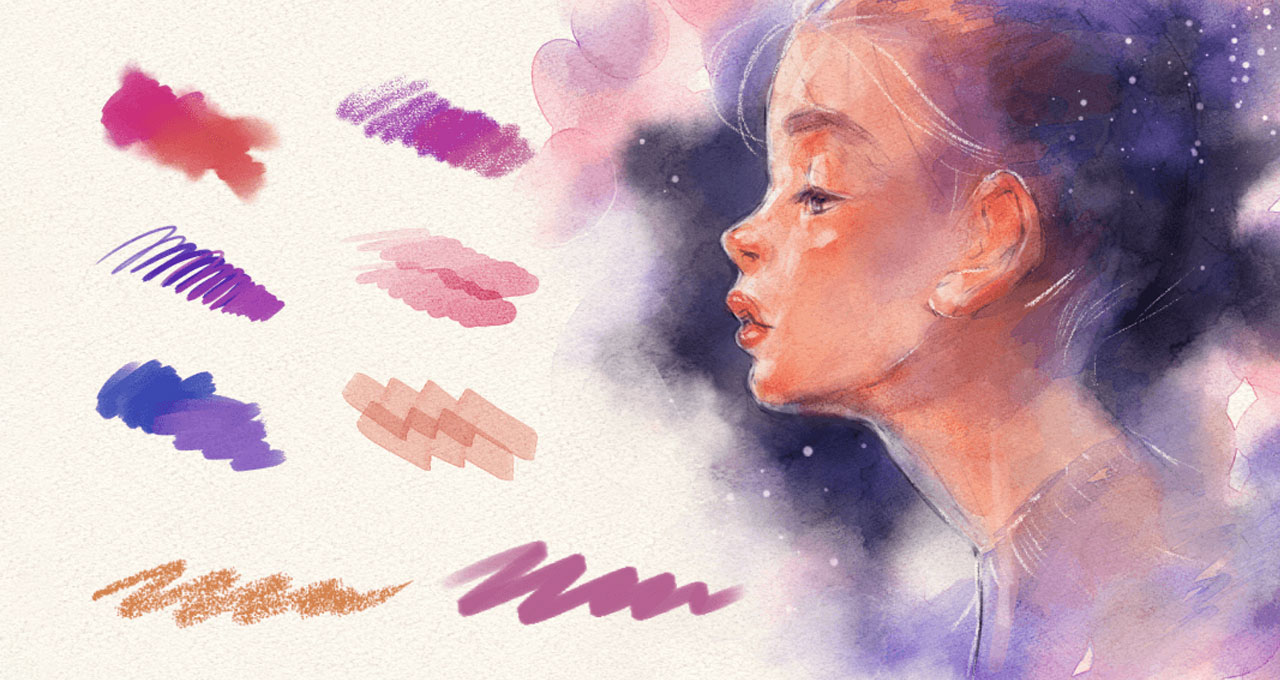 Perfected natural drawing feel. Make the most of pressure-sensitivity so your pen strokes look exactly as intended. And with in‑built stabilization options and adjustable pen pressure sensitivity, you'll discover a whole new experience where advanced technologies support a realistic drawing feel.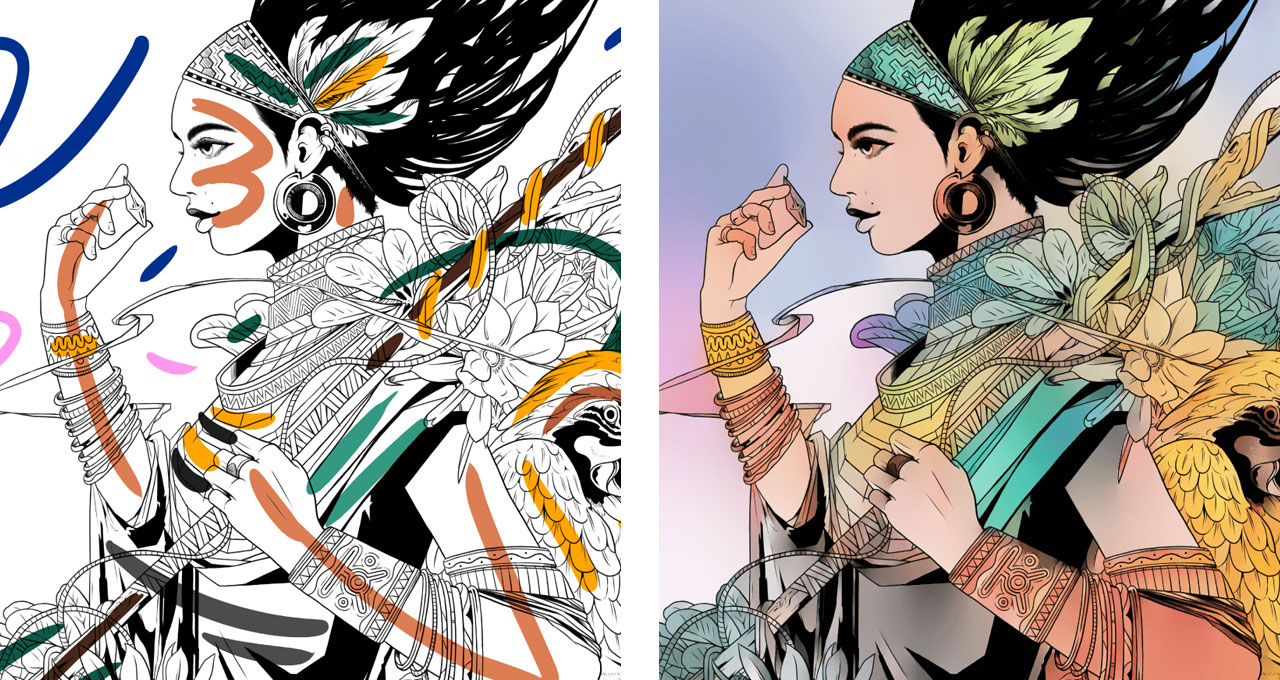 Innovative colorization. It's you who decides how it will be done. There are smart tools to fill line art with small gaps and capture tiny unfilled areas. And there is also the AI-based automatic colorization, which you can use with your line art or lay down color hints for breathtaking and
inspiring results.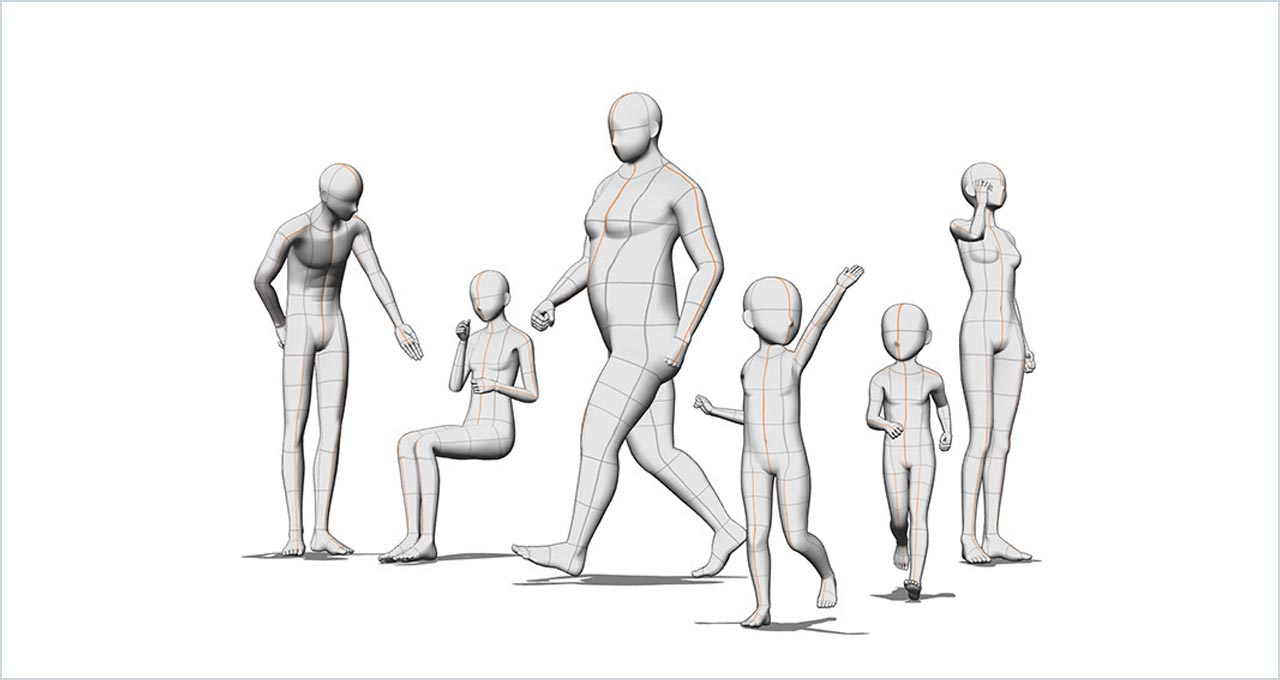 3D models for everything. Clip Studio Paint resolved artists' problems with references for their work and includes adjustable 3D figures to freely change poses, proportions, and body types as needed. AI features enable you to simply scan a photograph and let the app automatically pose your 3D drawing figure to match. Afterward, you can use the 3D model for fast and easy prototyping or incorporate them into your stylized artworks. To go further, you can even convert photos into illustrations which will be particularly handy for those of you who draw manga and comics.
Polish it with a whole bunch of tools and solutions for final editing. You can try non-destructive effects and filters, apply textures and effects, or compare patterns to test and refine your finishing touches. Or you can try one of 29 blending modes to create specific compositions. Or experiment endlessly with Tonal Correction Layers.
Platforms
Clip Studio Paint is a cross-platform app, which is one of its greatest strengths as a graphics software. You can start on your desktop or tablet and then make edits anytime you have a new idea with your smartphone — because there is no single place for creativity.
The app is available for:
Windows 8.1 (64-bit) and higher
MacOS (10.13, 10.14, 10.15, 11)
iPad (minimum OS 13)
iPhone (minimum iOS13.1)
Android (version 9 and higher)
Free trial for 3 months. One-time purchase & monthly usage plans starting from $0.99/month.